"Tatem's 20th Wedding Anniversary Tips"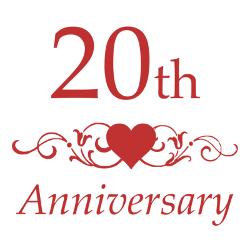 Do you know what today is?  It's my 20th Wedding Anniversary!  On August 8, 1998, we tied the knot.  Oh how I thank God for allowing my husband and I to see another year together.  I have to say through the storms, rain, sunshine and the pain that God's been good. He is the glue that has kept us together.  As we happily celebrate and reflect on our twenty years, we realize that a good marriage is obtainable, but you must be intentional.  This week, I want to share twenty tips that have helped my husband and I to maintain a great marriage.
Tatem's Twenty Tips for a Successful Marriage:
Keep God in your everyday marriage. (Matt. 6:33)
Invite God in by praying together on a daily basis.
Read from God's Word daily and apply it to your life.
Take your marriage to church on a weekly basis, worship together.
Love your spouse, and be a good friend by making your spouse your #1 human priority. (Friendship is important!)
Communicate often: in person, by phone and by text.  Check on each other throughout the day.  Share your thoughts, goals and dreams with each other.  Listen to what your spouse is saying and act accordingly.
Forgive often.  If you are married for any length of time, you will disappoint, hurt one another, say or do the wrong thing.  Forgive, Forgive and Forgive! (Matt. 18:22)
Have regular dates together as often as you can.  Also have dates with other couples.
Travel together as often as you can.  It doesn't matter if you take small trips, big trips, expensive or inexpensive trips just go somewhere and spend one on one time together.
Try new things together!  Be adventurous, do something exciting.
Take pictures together. (Create memories)
Have an accountability couple.  A couple that you can be totally honest with and a couple who will hold you to doing the right/righteous thing.
Give!  Give to God through your tithes and offerings, give to others by sharing with other couples. Find ways to serve together. (Malachi 3:8-10)
Take time to celebrate special days (birthdays, anniversaries, goals accomplishments and milestones).
Never speak bad about each other.  Take your complaints to God and say/share your compliments.
Eat meals together at the table often.
Know your spouse's love language and speak it often.  (Gifts, Touch, Words of Affirmation, Acts of Service, and Quality Time)
Do not deprive each other of intimacy.  Offer your body to each other on a regular basis.  Kiss often!  Give the affection that is due to your spouse. (I Corin 7:5)
Set some boundaries that you both will agree to and follow them.  (For example:  Not going out on a date with another man/woman, being careful about who you are connected to online, on the phone, texting etc.)
If you have children, raise a godly seed.  Teach them about God. (Malachi 2:15, Prov.  22:6) Be an example for them.  One of the things that will bless a child's life is having parents who love each other and display a godly marriage.
Now this is not everything, but just 20 things that have blessed our marriage. I pray God's blessings on every person who reads this post.  If you are married, I pray that God will allow you and your spouse to see many more years together.  I pray for love, laughter and longevity.   Remember, a great marriage doesn't just happen,  we must be  consistent and intentional about practicing these tips on a regular basis!
Until next week. . .
Carolyn