"Can you accept your differences?"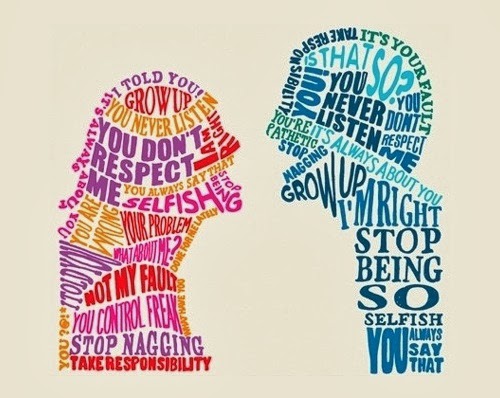 "Men are from Mars and women are from Venus!"  I am sure you have heard this statement before and maybe you have even read the book.  Every one knows that men are different from women.  However, when you get married the differences are magnified.    One of the biggest challenges in the early years of marriage is seeing the differences, maintaining a good attitude and still being able to accept/like your spouse with all of his or her differences.  
I think of acceptance in two different ways.  First, there are some behaviors that you will see when you are married that are difficult to accept.  It may be not cleaning up after his/her self, not making up the bed or taking out the trash. Whatever the behavior, you must realize that your spouse has probably been accustomed to doing things this way all of his or her life.  When a man or woman gets married they bring their habits and their ways of doing things with them.    The very thing that you think everyone should know to do, may be the very thing that your spouse does not do.  You may feel like, I will not accept  . . .  So you spend your time trying to get your spouse to change.  Sometimes it works and some times you just have to accept the behavior and pray that God will change you, your spouse or the behavior. GOD is the BEST CHANGE AGENT!
Second, as you get to know your spouse and spend time together, you will learn somethings about each other that you may or may not like.  Somethings you can't change so you have to learn to accept them.  Your spouse may or may not be exactly the way that you thought so when you realize that he or she isn't quite the way that you imagined, you have to learn to accept the person you married.  Please don't compare them with someone else.  Accept the fact that they are different and you married them.
TIPS ON ACCEPTING THE DIFFERENCES
Take the differences to God in prayer daily.
Ask God for grace and the right attitude as you learn to accept your spouse.
Don't keep nagging your spouse about your desire to see him/her change. (Proverbs 21:9 and 25:24 warns us about being a nagging wife)
Realize that your way of doing things isn't the only way.
Accept  and respect each other with all of your differences.
Decide if the difference is really a big deal or not.  For example:  The way a person folds the towel or makes up a bed.  If it means a lot to you, keep praying about it.
Be encouraged and know that it is normal to have to make adjustments when you are living with someone for the first time and learning to becoming one.
There are some behaviors that are not acceptable like abuse or behaviors that are a sin against God. I am not talking about accepting those kinds of differences.  I am talking about simple differences in habits and behaviors.      (A word to the singles:  It is so important to collect as much data as possible when you are dating.  When you see consistent behaviors that don't line up with your lifestyle or the Word of God, leave that person alone.  Don't  proceed in a relationship with hopes that the person will change later and don't ignore when you see red flags.  STOP!)
I pray that this week's post will help somebody.  It is not easy living with differences, but with God's help you can do it.  I am a witness that it can get better if you hang in there and allow God to work on you and your spouse.   When your desire is to please God and to please your spouse, you will make adjustments.    Colossians 3:12-14 Therefore, as God's chosen people holy and dearly loved, clothe yourselves with compassion, kindness, humility, gentleness and patience.  . . .
Until next time  . . .
Carolyn