"The 3rd Word to Transform 2021"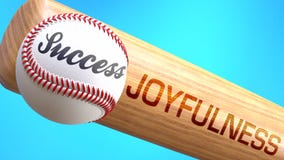 Do you want to have success in 2021? If the answer is yes, you must have joyfulness! The song writer once said, "After all the things I've been through, I still have joy!" This is week three and word number three of Tatem's 21 Words to Totally Transform your 2021 is JOYFULNESS! NO MATTER WHAT YOU ARE GOING THROUGH, "You can still have joy!"
There is a difference between joyfulness and happiness. Joyfulness is more consistent, because Joy is connected to our relationship with Jesus. Real joy comes from Jesus, He is our Joy! Psalm 16:11 says, "You will show me the path of life; in Your presence is fullness of joy; At Your right hand are pleasures forevermore." Nehemiah 8:10 says . . . for the joy of the Lord is your strength." When I read this verse, I think about how great I feel when I reflect on the Lord, who He is, and what He means to me. This kind of joy is deep-rooted and is a wonderful feeling of cheer, happiness and is all about God's goodness. Since God is good all of the time, and all of the time God is good, we can always have joy!
Happiness is nice, but it doesn't last. Happiness is based on what happens. Therefore, if something bad happens, you will be sad. With everything that is happening in our world today, it is easy to be sad or depressed. Living in a pandemic can make you sad, however, we can still have joy!! We may be going through, but since God is with us, He is our Sustainer, Protector, and Provider. He is our Peace in the midst of the storm. He has truly been a Father to me, and I am honored to be His daughter. Just thinking about who God is brings me joy!
As we face the days of 2021, I want to encourage you to truly practice joyfulness, we must remember who we are and Whose we are. You are a daughter or son of the Most High God. He loves you and has great plans for you! He has promised to never leave you nor forsake you (Hebrews 13:5). Be intentional about being joyful every day, and watch each day be transformed. Joyfulness is attractive, contagious and good for your soul. Yes, we will face some challenges and some difficult days, but because we know Jesus, we can still have JOY!! Do you know Jesus? Remember, "When you know Jesus, you will know Joy. No Jesus = No Joy!"
Until next week . . .
Carolyn
p.s. If you haven't already, check out last week's word to totally transform your 2021.