"Finish What You Started!"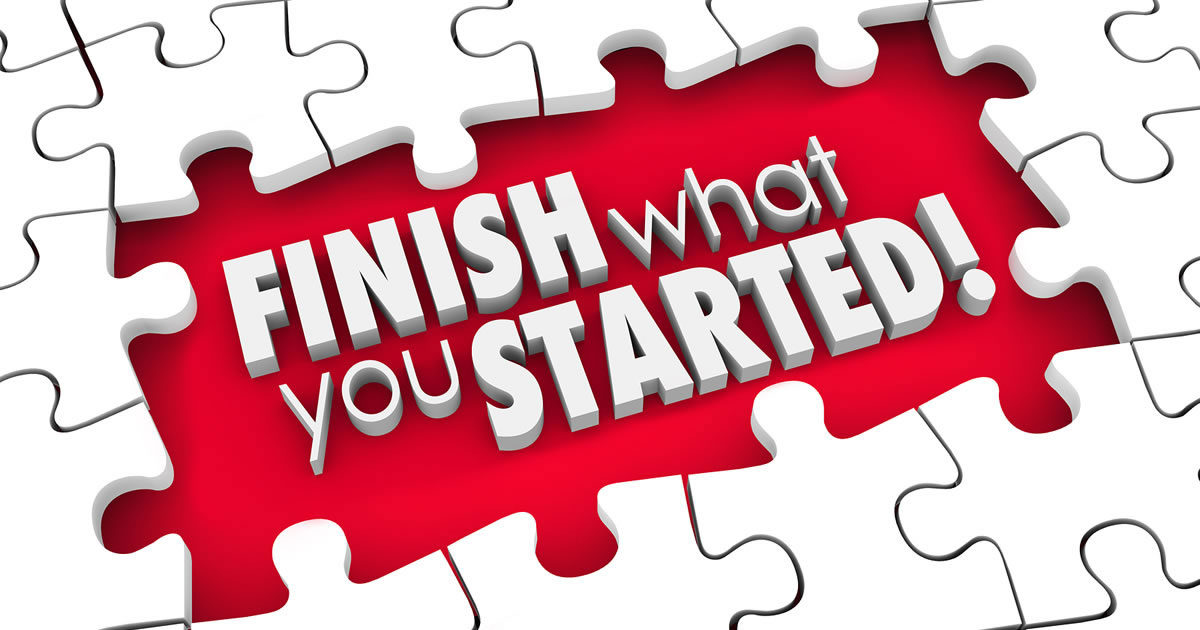 Do you have any assignments, jobs or projects that you have started but have not finished? I am talking about things that you know God wants you to finish. You know it's a God thing when it lines up with His word, His plan, His purpose for your life. I know it's been a long time since my last post but I must continue to give you 21 Words to totally transform your 2021. This week we will discuss the 14th Word, FINISH!! God spoke to me and told me to finish what I have started this year. I am sharing what the Lord shared with me and hope that it will encourage you to FINISH something that you have started. Let's talk about the word FINISH!
The word FINISH is defined as; to bring something to an end or to completion in other words to complete!! What do you need to FINISH? What have you started that got interrupted? Some things started during COVID and some things may have stopped but what do you need to FINISH? We were put here on earth for good works. If you have started something good and have not finished it, I am here to encourage you as I strive to finish a number of things.
1) I have two books that I am reading and would like to finish both of them before the summer ends.
2)Some years ago I started Seminary and stopped because I wanted to be present and active at my son's school for his last two years of high school. I came out of Seminary to be free to participate in my son's school year. There were football games and activities that I didn't want to miss. I told myself that I can always go back to school but I couldn't always be there for my son's Junior and Senior year of high school. Three years have passed and now, God is leading me to FINISH what I started and I encourage you to join me. Think about whatever you need to finish and FINISH!
3) The last thing that God reminded me of is this blog topic. At the beginning of this year I started writing a series titled; 21 words to totally transform your 2021 and I need to finish this assignment by writing about one word for the next 7 weeks. I plan to get it done!
What does the Bible say about finishing?
I am so glad that you asked. Here are two verses that have encouraged me to FINISH.
Philippians 1:6 MSG "There has never been the slightest doubt in my mind that the God who started this great work in you would keep at it and bring it to a flourishing FINISH on the very day Christ Jesus appears." What is the great work that God has started in you?
II Timothy 4:7 AMP "I have fought the good and worthy and noble fight, I have finished the race, I have kept the faith." If we really want to get ahead, we must finish our projects and finish whatever we have started.
What is God calling you to finish? Let's not put it off for tomorrow or next year. Let's FINISH! Stick to it! You can do it! Start working on whatever it is today!
Until next week . . .
Carolyn