"Do you have PEACE about it?"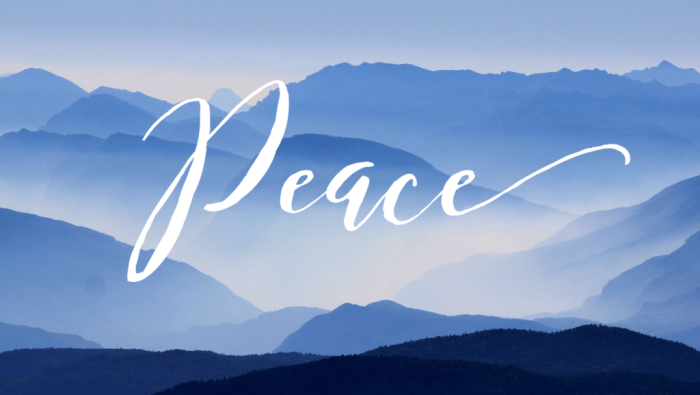 Have you ever felt a lack of peace after making a decision? What did you do? Peace is one of the fruits of the Holy Spirit and it is priceless! It's one of those words that can make a big difference in your life, home, relationships and in your career. As I continue to seek God for 21 Words to totally change your 2021, our 16th word is PEACE. (I know there are only 4 more months left in 2021, but there are still some things that we can do to end our year on a good note).
I saw a sign that really sums it all up. It said, "No Jesus, No Peace and, Know Jesus, Know Peace." I totally agree with this. Real peace comes from having a relationship with Jesus Christ. Once you are in a relationship with Jesus Christ, it is so important that we take everything to Him in prayer. I don't know about you but there have been times when I was about to make a decision and I did not have peace. In my experience God allowed me to feel a lack of peace to get my attention. When you don't have peace, It is so important to consult God through prayer, reading the Bible and for some situations you may need to seek godly counsel. Don't ignore your lack of peace. Seek God and find out why it's there. It may be a sign to do something different or to wait. See if your decision lines up with God's Word and be sure to consult God before making the decision.
There are lots of Bible verses on Peace. We can think about peace in so many different ways; the Peace of God, Peace of Mind, Peace on the Job, Peace in Marriage/Relationships and Peace in the Home. It's all good and there is nothing like having peace. Do you have PEACE?
Here are a few verses on what the Bible says about PEACE.
Hebrews 13:14 – "Pursue peace with ALL People . . . ." This means it is not okay for Christians to be on bad terms with others. The word pursue means that we should chase after peace with all people. If there is something that you did or said and you know it killed, disturbed or shattered the peace, you need to do whatever necessary to pursue peace.
Romans 14:19 – "Therefore let us pursue the things which make for peace and the things by which one may edify another." We must go after the things which make peace in our lives.
Proverbs 16:7 – "When a man's ways please the Lord, he makes even his enemies to be at peace with him."
Isaiah 26:3 – "You will keep him in perfect peace, whose mind is stayed on You, because he trusts in You."
I Peter 3:11 – "Let him turn away from evil and do good; Let him seek peace and pursue it."
In closing, I encourage you to pursue peace in every area of your life! Is there an area where you don't have peace? Take it to God in prayer and seek Him for peace. When God speaks, we must listen and obey! Don't look for peace in things that don't line up with God's Word.
Until next week . . .
Carolyn